These stewed lentils with caramelized onions and breadcrumbs pack a lot of flavor and texture! From the savory, sweet onions to the crunchy breadcrumb topping this dish is sure to turn any lentil hater into a lentil lover! Plus this recipe is fully vegan!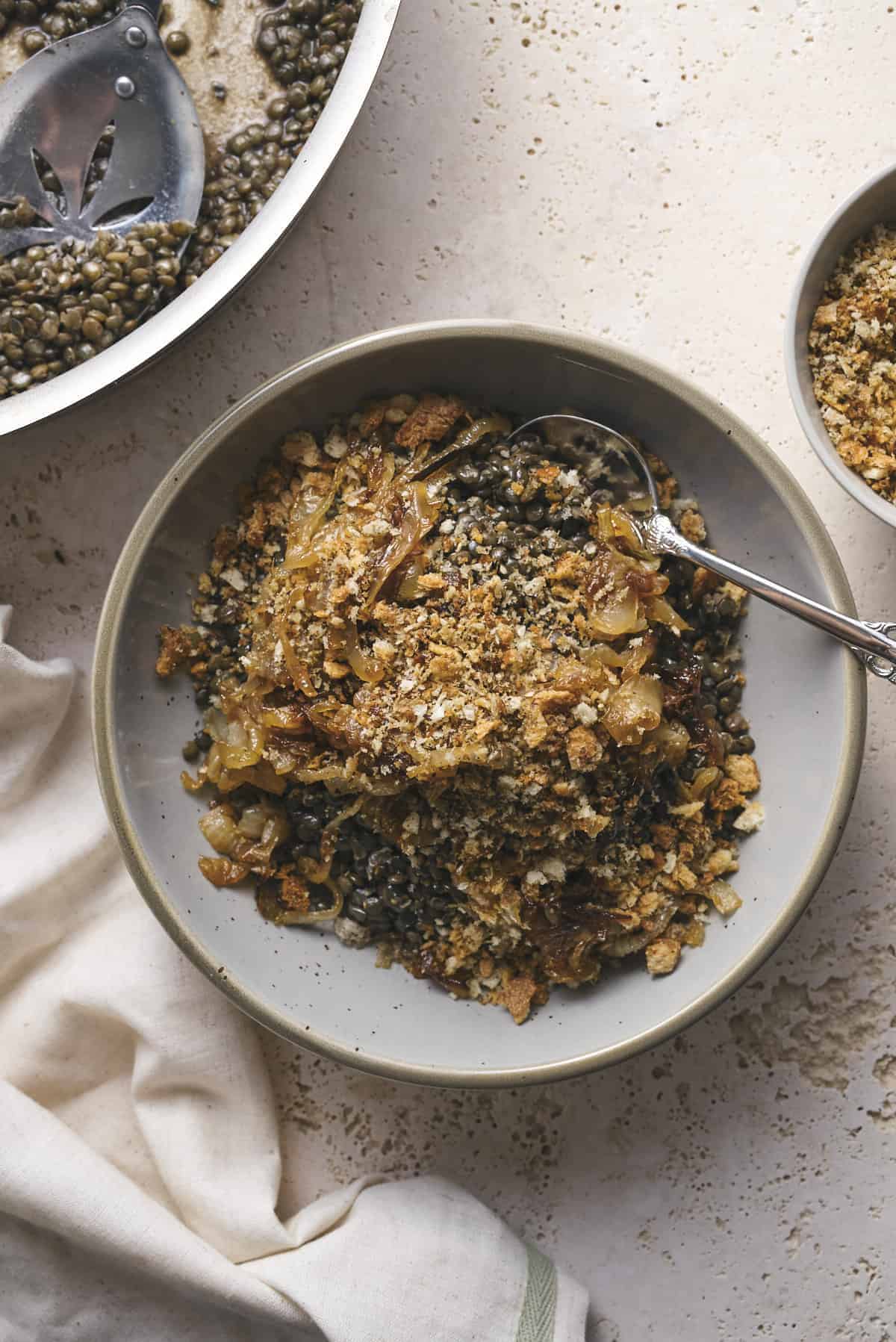 This recipe is loosely inspired by Mujadara, which is a middle eastern dish with lentils, rice, and caramelized onions. My version is a bit more simplified just using lentils but with the added crunch from my za'atar breadcrumbs. 
Some other middle eastern recipes
The trick to really good caramelized onions is time. Plan to cook the onions at a low temperature for at least an hour. I also like to add just a pinch of sugar and salt to help them develop a little more caramelization, plus for seasoning.
Then, I pull the onions out of the pan and cook the lentils in the delicious leftover cooking oils. Simply deglazing the pan with some brandy (or white wine) and flavor with garlic, thyme, and bay leaf. 
I often go for this recipe whenever cooking for a vegan friend (or when I need a break from meat). Using olive oil for the fat, instead of a saturated fat and lentils for protein, this recipe has so much flavor and texture that even the pickiest meat eater won't mind. I am not vegan myself, but I definitely believe that there is plenty of ways to make vegan food taste great. 
More vegan recipes
For my variation on this dish, I use french Puy lentils because they hold there texture very well and have a pleasant chew to them. If you can't find puy lentils though, I would just make sure to use any green lentils or brown lentils. Red lentils will fall apart too much.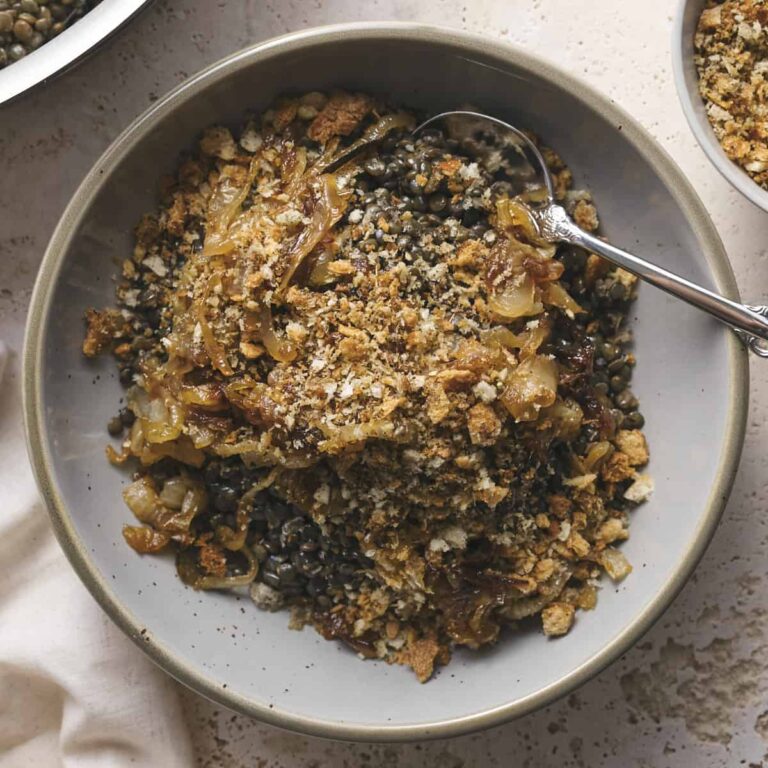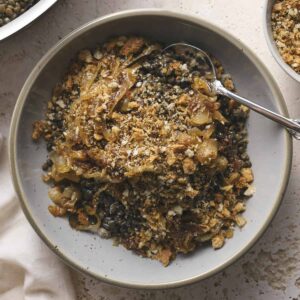 Stewed Lentils with Caramelized Onions and Breadcrumbs
Loosely inspired by the middle eastern dish, mujadara. This recipe uses slows caramelized onions and crunchy za'atar spiced breadcrumbs to add a punch of flavor.
Print
Pin
Rate
Ingredients
1

cup

za'atar breadcrumbs,

(or other homemade breadcrumbs, left coarse)

¼

cup

olive oil

2

sweet onions,

(thinly sliced)

1

teaspoon

salt,

(plus more to taste)

1

teaspoon

sugar

4

cloves of

garlic,

(minced)

3

tsps

fresh thyme,

(minced)

1

bay leaf

¼

brandy,

(or white wine)

2

cups

Puy lentils,

(or green lentils)

3

cups

boiling water
Instructions
Prepare some homemade za'atar breadcrumbs ahead to time. Or make any fresh breadcrumbs.

Bring a large saute pan or sauce pan to low heat. Add the olive oil, onions, and a pinch of salt and sugar and stew the onions for at least one hour or until the onions are deep brown and caramelized, stirring often. Remove from the pan with a slotted spoon leaving the cooking oil in.

Add the garlic, thyme, bay leaf, and brandy to the pan. Deglaze the pan for about 1 minute, scraping all the brown bits off the bottom with a wooden spoon. Then, add the lentils and boiling water. Once the water comes to a gentle simmer, cover and cook for 25 minutes, or until the lentils have soaked up most of the water. Taste and adjust for salt.

Serve the lentils topped with the caramelized onions and za'atar breadcrumbs.
Video
Did you make stewed lentils with caramelized onions and breadcrumbs? Rate the recipe above!
Follow Redwood Kitchen on social media!
If you like this recipe be sure to comment below or subscribe for more great recipes!