Check out this incredible pan-fried zucchini recipe that makes a perfect side dish for some roasted fish or chicken. This easy sautéed zucchini dish will redefine this humble vegetable for you. Follow these simple steps to wield your skillet for golden-crisp, irresistible fried zucchini.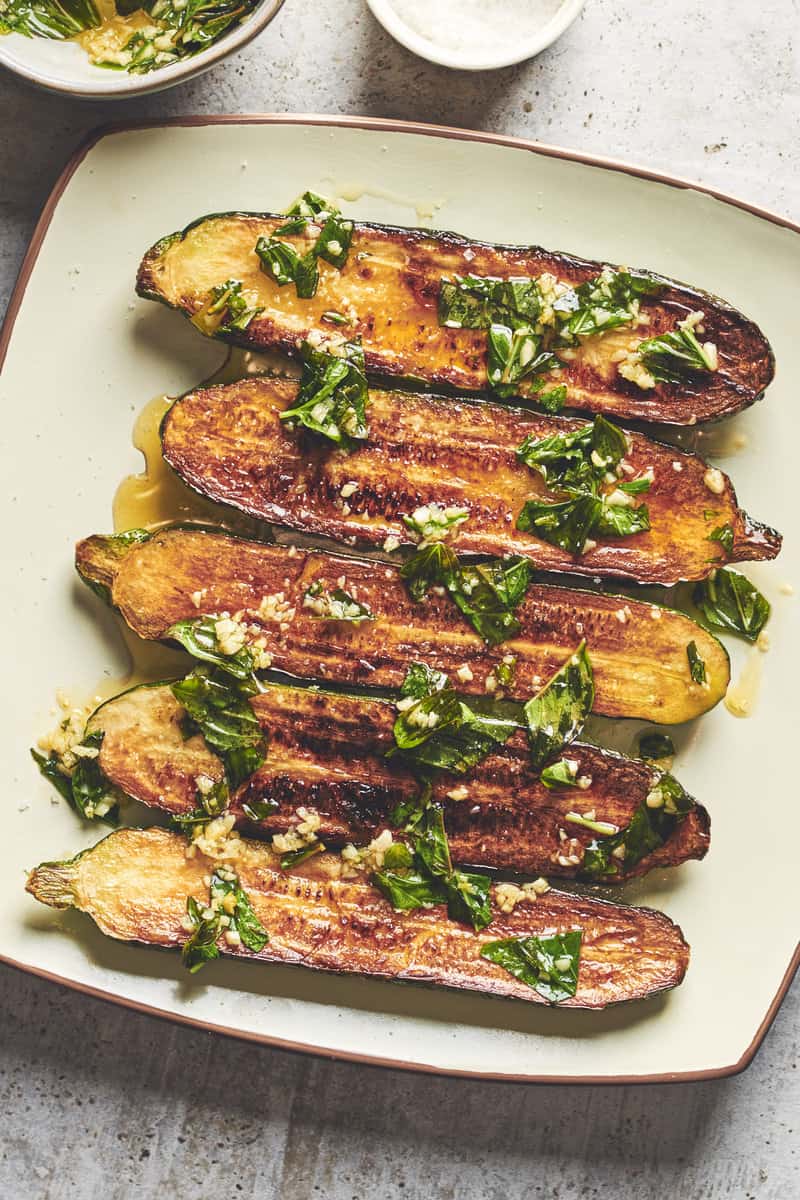 Jump to:
If you already have the grill fired up, this recipe adapts perfectly for grilled zucchini. Just make sure to lightly sauté the minced garlic, basil, and olive oil in a separate saucepan to bloom it's aromatic flavors. Don't forget some crunchy bread to sponge up any extra oil!
I like to serve this healthy side dish along with baked dijon halibut or za'atar roast chicken.
Key Ingredients
Zucchini: Opt for smaller zucchinis, so you can halve them lengthwise and still get a perfect fit in the pan. Larger zucchinis tend to become soggy due to excess seeds and pulp during cooking.
Basil: Aromatic basil imparts an herby richness to the garlic-basil oil infusion.
Garlic: Unlock garlic's full potential by gently blooming it in olive oil, creating a luscious and flavorsome topping.
Fresh Lemon Juice: A hint of lemon brightens the dish, enhancing its overall taste.
Olive Oil: This recipe's heart lies in olive oil, so choose a premium variety with peppery notes and a thick texture.
Red Pepper Flakes: For an optional kick of heat, add red pepper flakes.
Full ingredient list below.
Cooking Instructions
Heat up a large skillet over medium heat. Drizzle olive oil and gently pan-fry zucchini halves flat-side down for 4-5 mins until golden brown. Flip & cook 4-5 mins more. Use tongs to transfer zucchini to a platter. Repeat in batches. Keep heat moderate to prevent olive oil from burning.
Once the zucchini's done, remove pan from heat & let cool briefly. Add more 1 to 2 tbsps oil if the pan seems dry, then sauté garlic for 1 min as pan cools.
Finally, stir in the basil & lemon zest to the oil. Drizzle the garlic-basil oil over the zucchini halves. Season with sea salt, cracked pepper & a lemon squeeze.
Top Tip for Perfect Zucchini
When I cook zucchini as it's own dish, I prefer to cut them in half lengthwise instead of slicing them thin to avoid overcooking. Summer squash can get mushy very quickly when cooking, leaving a little bit of crunch in veggie will maintain its sweet flavor and texture.
FAQ
How to pan fry zucchini without it getting soggy?
A hot pan is key to searing zucchini to perfection. Achieve a crispy sear without overcooking by ensuring your pan is properly heated.
How do you keep zucchini crisp when cooking?
Choose the halving method instead of slicing. Larger zucchini pieces retain more moisture, resulting in a crispier texture.
More Delicious Vegetable Side Ideas
For those seeking additional quick vegetable side dishes, explore these delightful options: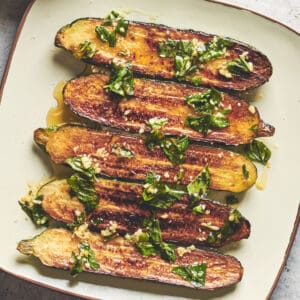 Pan Fried Zucchini with Basil
This quick pan fried zucchini with basil recipe will upgrade this simple vegetable to be the star of the dinner.
Print
Pin
Rate
Nutrition
Calories:
115
kcal
|
Carbohydrates:
7
g
|
Protein:
2
g
|
Fat:
10
g
|
Saturated Fat:
1
g
|
Polyunsaturated Fat:
1
g
|
Monounsaturated Fat:
7
g
|
Sodium:
400
mg
|
Potassium:
430
mg
|
Fiber:
2
g
|
Sugar:
4
g
|
Vitamin A:
412
IU
|
Vitamin C:
37
mg
|
Calcium:
35
mg
|
Iron:
1
mg
Ingredients
2

lbs

zucchini

(cut in half lengthwise)

2

cloves

garlic

(crushed and minced)

4

tablespoon

olive oil

½

cup

basil

(roughly torn)

1

lemon

(juiced and zested)

sea salt and freshly cracked pepper

(to taste)
Instructions
Preheat a large skillet under medium heat. Add the olive oil the gently fry the zucchini halves flat-side down for about 4-5 minutes until golden brown, flip and cook the other side for another 4-5 minutes. Using tongs, remove the zucchini from the pan and arrange on a serving platter. Do this in batches if needed. Avoid cooking with high heat so the olive oil doesn't burn.

After the zucchini is cooked, move the pan off of the heat and let cool for about a minute. If the pan dried out while frying add another 1-2 tablespoon of olive oil. Then, add the garlic and lightly sauté for 1 minute while the pan cools.

Lastly, add the basil and lemon zest and stir into the oil. Pour the garlic-basil oil over the zucchini and top with a pinch of sea salt, cracked pepper, and a squeeze of lemon.
Notes
For a time-saving alternative, combine the olive oil, garlic, basil, and lemon zest in a small microwave-safe bowl. Microwave the mixture for 1 minute before drizzling over the zucchini.
Tried this simple zucchini recipe? Share your feedback and rate it!
Connect with Redwood Kitchen on social media:
For lovers of this delicious zucchini recipe, feel free to leave your comments and subscribe below.
Food Safety
Cook meat to a minimum temperature of 165 °F (74 °C)
Do not use the same utensils on cooked food, that previously touched raw meat
Wash hands after touching raw meat
Don't leave food sitting out at room temperature for extended periods
Never leave cooking food unattended
Use oils with high smoking point to avoid harmful compounds
Always have good ventilation when using a gas stove