There has always been something about the combination of mushrooms and seafood that I have always loved and this salmon with mushroom risotto is no exception. Something metaphorical about sea and land, or something like that. The use of dried porcini mushrooms for this risotto adds the perfect umami flavor, they are a secret Italian flavor bomb for many dishes. There will be no leftovers with this dish as you are crafting each bite with the perfect amount of risotto and fish.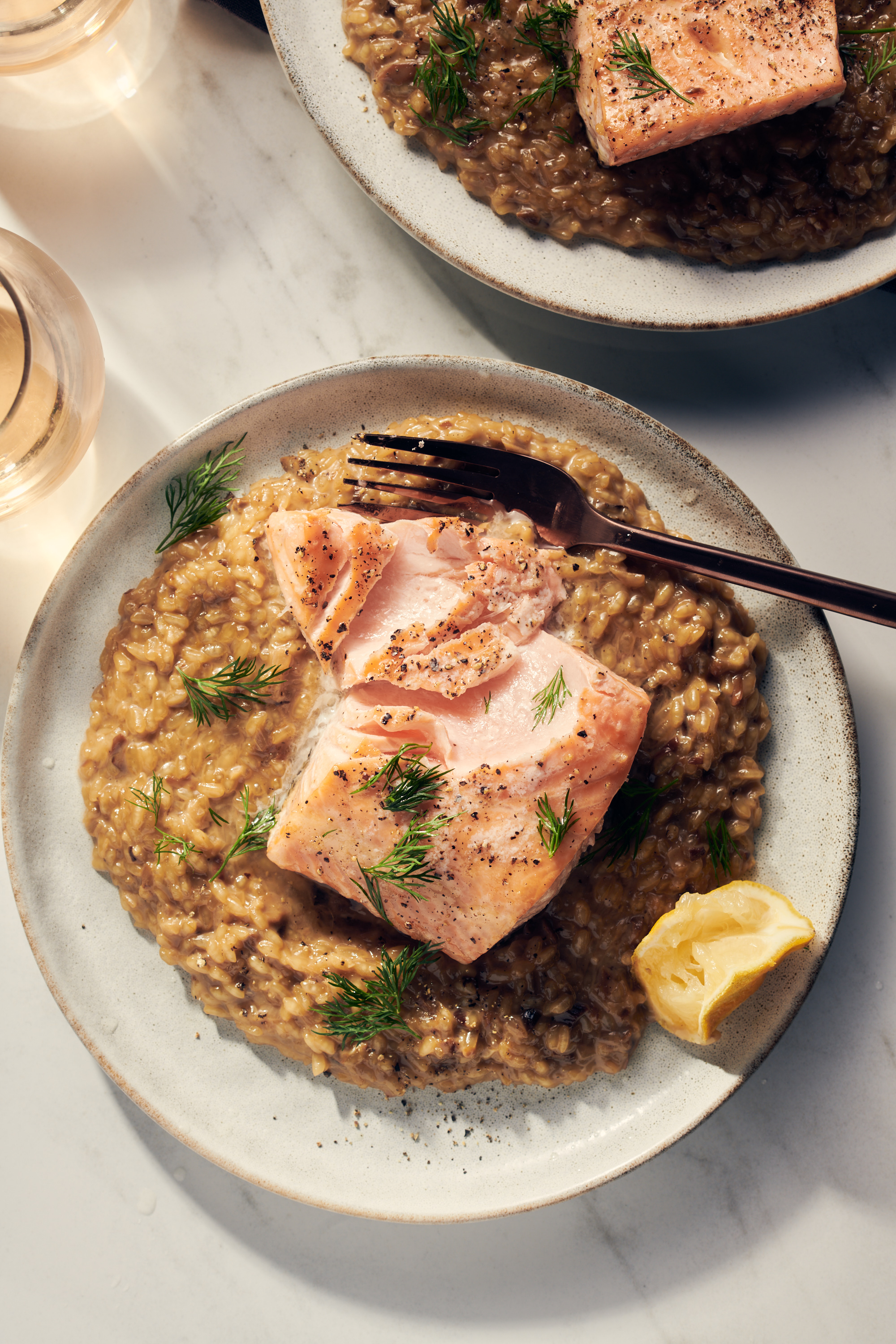 I usually keep the baked salmon simple for this recipe, it is really more of a supporting actor in this whole ensemble. Just season the fillets with a bit of salt and pepper, drizzle with some olive oil, and stick a pat of butter on top. Toss onto a sheet pan and bake for 15 minutes or so. Done. 
More risotto recipes to try:
Typically, when I cook salmon I like to use the broiler to get that perfect crispy skin, but for this recipe I prefer slow baking the salmon in a 325 degree oven. Doing so helps make the salmon more flaky which mixes better with the risotto. If you don't have the effort to cook salmon or just want to get to that crisp white wine a little quicker, a good quality smoked salmon will work just as well.
The real trick to the risotto is using dried mushrooms, I like porcini but any kind will work. When mushrooms dry it enhances their flavor. Soaking the mushrooms in some boiling water beforehand helps soften them but also gives you an insanely quick and delicious mushroom broth to use as the backbone of your risotto. 
Feel free to use any short grain rice for the risotto. Arborio or carnaroli are usually the norm for risotto but any decent short grain will work. I usually have a big bag of Japanese short grain rice around my pantry and that works great! 
Salmon with Mushroom Risotto
A classic Italian mushroom risotto using dried porcini mushrooms and baked salmon.
Print
Pin
Rate
Ingredients
Salmon
1 ½

lb

salmon,

(cut into four fillets)

½

teaspoon

butter,

(per fillet)

1

teaspoon

olive oil,

(per fillet)

salt and pepper,

(to taste)
Mushroom Risotto
2-3

oz

dried porcini mushrooms,

(or any other dried mushroom)

6

cups

boiling water

2

shallots,

(minced)

5

cloves

garlic,

(minced)

4

tablespoon

butter,

(divided)

½

cup

dry white wine,

(chardonnay works well)

3

cups

short grain rice,

(such as Japanese rice, arborio, or carnoroli)

1

cup

freshly grated parmesan

1

lemon,

(juiced, more for serving)

salt and pepper,

(to taste)

fresh dill,

(for serving)
Instructions
To start, preheat the oven to 325°. In a bowl, combine the boiling water and dried mushrooms and let soak for about 20 minutes. Remove the mushrooms, and mince. Save the broth.

When the oven is hot, place the salmon fillets on a sheet pan, season with salt and pepper, drizzle some olive oil over them, and put the pats of butter on top. Bake in the oven for 15 minutes or until cooked all the way through and flaking.

While the salmon is cooking, heat a large saucepan or high walled saute pan to medium heat and saute the shallots with half of the butter until softened, about 3 minutes. Then, add the garlic, white wine, and reserved minced mushrooms and season with a good amount of salt. Cook for another 2 minutes until slightly reduced.

Next, add the rice into the shallot-wine mixture and stir until well coated. Then, slowly add the mushroom broth to the pan one scoop at a time, waiting until the broth is absorbed before adding more. Stir frequently. Do this until the rice is cooked and tender, about 15-20 minutes. You might not use all the broth.

To finish, stir in the parmesan cheese and lemon juice. Taste and adjust for salt. Serve the salmon on top of the risotto with some fresh dill, lemon wedges, and salt and pepper.
Notes
Make sure to taste the risotto as you cook it, good risotto isn't a science. Some rice will cook faster or slower than others. The trick is to add the broth slowly and stir a lot and adjust for more or less broth as you go.
Did you make salmon with mushroom risotto? Rate the recipe above!
Follow Redwood Kitchen on social media!
If you like this recipe be sure to comment below or subscribe for more great recipes.