Jump to Recipe
Fried rice is such a simple, easy, and tasty meal and this pork belly fried rice is no exception! It comes together quickly in one pan (or wok) and is very adaptable to what you have on hand. I usually just chop up whatever wilting vegetables have been sitting in my crisper too long.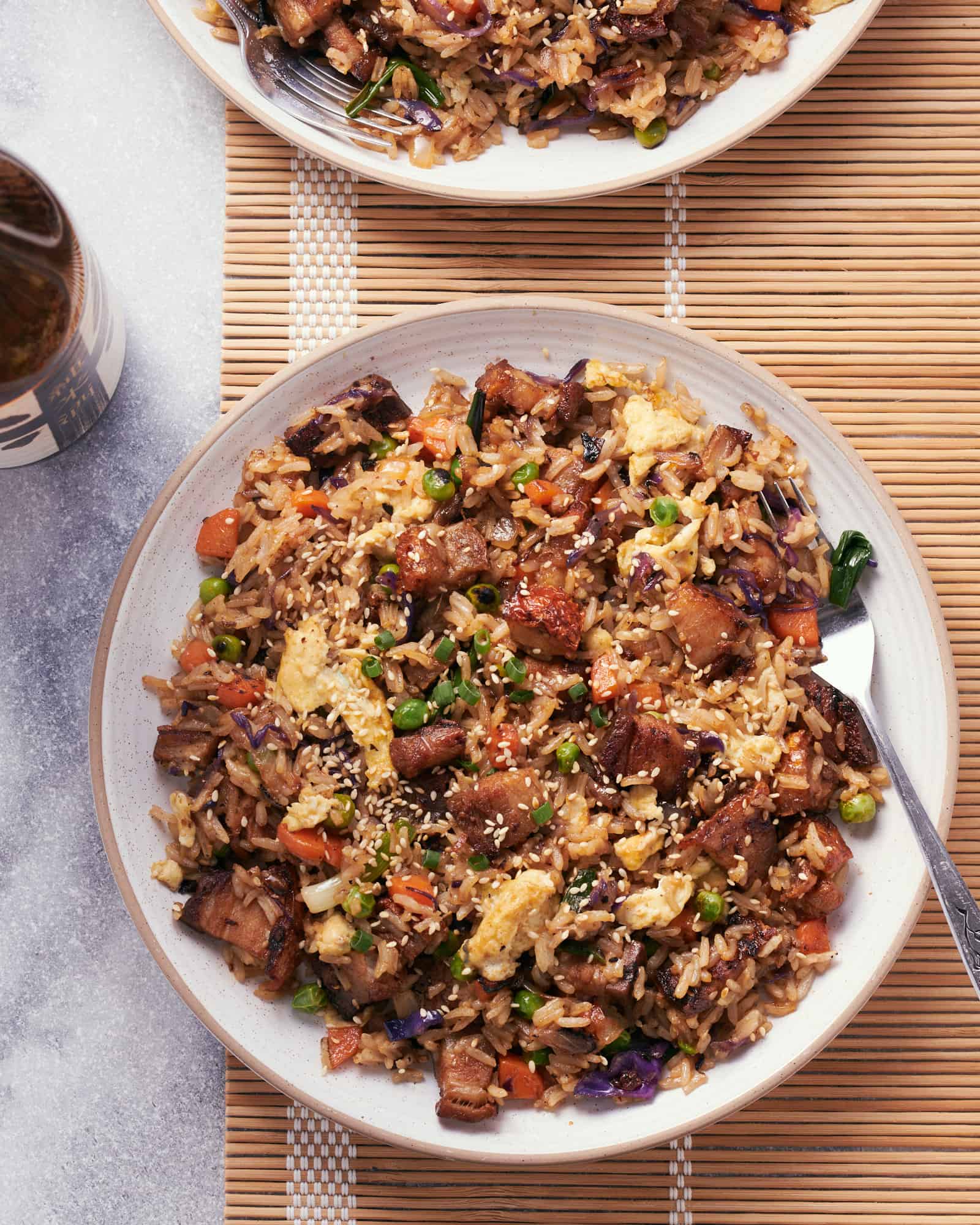 Using a Japanese style seasoning made from soy sauce, sake, and mirin helps caramelize the the pork belly. If you can't find mirin or sake, you can substitute by adding a bit more sugar and a splash of white wine. It won't have the same umami character but a sweet, boozy flavor will add a similar spike (pun intended).
Leftover rice works great for pork belly fried rice because it has time to dry out and will fry better (and won't stick to the pan as easily either). So, if you're anything like me, always keep some cooked rice in the fridge for when a quick fried rice is what you need. Serve with a pickled cucumber wakame salad on the side.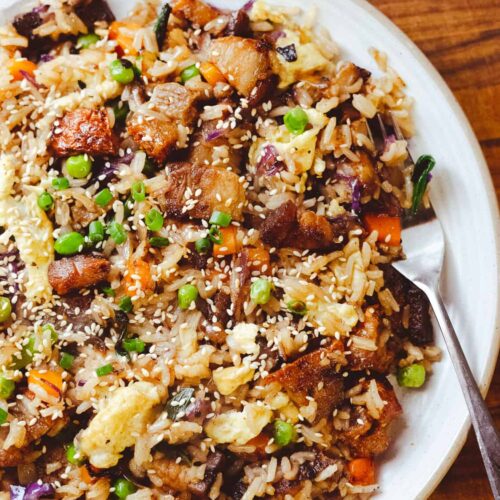 Ingredients
Sauce
3

tablespoon

sake

2

tablespoon

mirin

2

tablespoon

shoyu or soy sauce

2

tablespoon

brown sugar,

(or white sugar)

1

tablespoon

toasted sesame seed oil

1

"

ginger,

(peeled and minced finely)

2

cloves

garlic,

(minced)

1

teaspoon

white pepper

1

teaspoon

salt
Pork Belly Fried Rice
2

tablespoon

grapeseed oil,

(or any neutral oil)

2

large eggs,

(beaten)

1

lb

pork belly,

(cut into bite size pieces)

1

large carrot,

(peeled and diced)

1

small onion,

(diced)

3-4

scallions,

(cut into 1" pieces, save some for serving)

½

cup

green peas

½

cup

red cabbage,

(or any other cabbage, sliced thinly)

4

cups

cooked jasmine rice
toasted sesame seeds and toasted sesame seed oil

(for serving)
Instructions
Sauce
Combine all sauce ingredients together and set aside before stir frying.
Pork Belly Fried Rice
Heat a wok or large frying pan over your hottest burner. Once the pan begins to smoke a bit, quickly add the grapeseed oil and beaten eggs and scramble until just set, about 1 minute. Remove from the pan. Be careful working with a hot pan! Oil may splatter a bit, use a kitchen fan if possible.

Next, add the cut pork belly to the pan and stir fry until golden brown, about 5-8 minutes depending on how hot your pan is. Then, add half of the sauce to the pan and cook for another 1-2 minutes until the sauce caramelizes and thickens. Remove the pork belly from the pan.

After the pork belly is cooked there may be a lot of fat left in the pan, remove some if you wish but keep at least 2 tbsps left in the pan. Add the onions and carrots and stir fry until browned, about 3-4 minutes.

Next, add the peas, red cabbage, and scallions and stir fry until the cabbage wilts, about 1-2 minutes. Then add the cooked rice and the rest of the sauce and stir fry until the rice absorbs the sauce, 2-3 minutes.

Add the eggs and pork belly back to the pan, toss well, then serve with some additional toasted sesame oil and a sprinkle of sesame seeds.
Notes
Fried rice works very well with leftover rice, especially if it has dried out in the fridge overnight.
Follow Redwood Kitchen on social media!
If you like this recipe be sure to comment below or subscribe for more great recipes.