I love fish with wild rice, something about the savory salty flavor of the sea with comfort of popped wild rice is simply magical. Wild rice and mushrooms is already a classic dish but the additional of pan seared rockfish (or any small whitefish) makes it a rounded meal.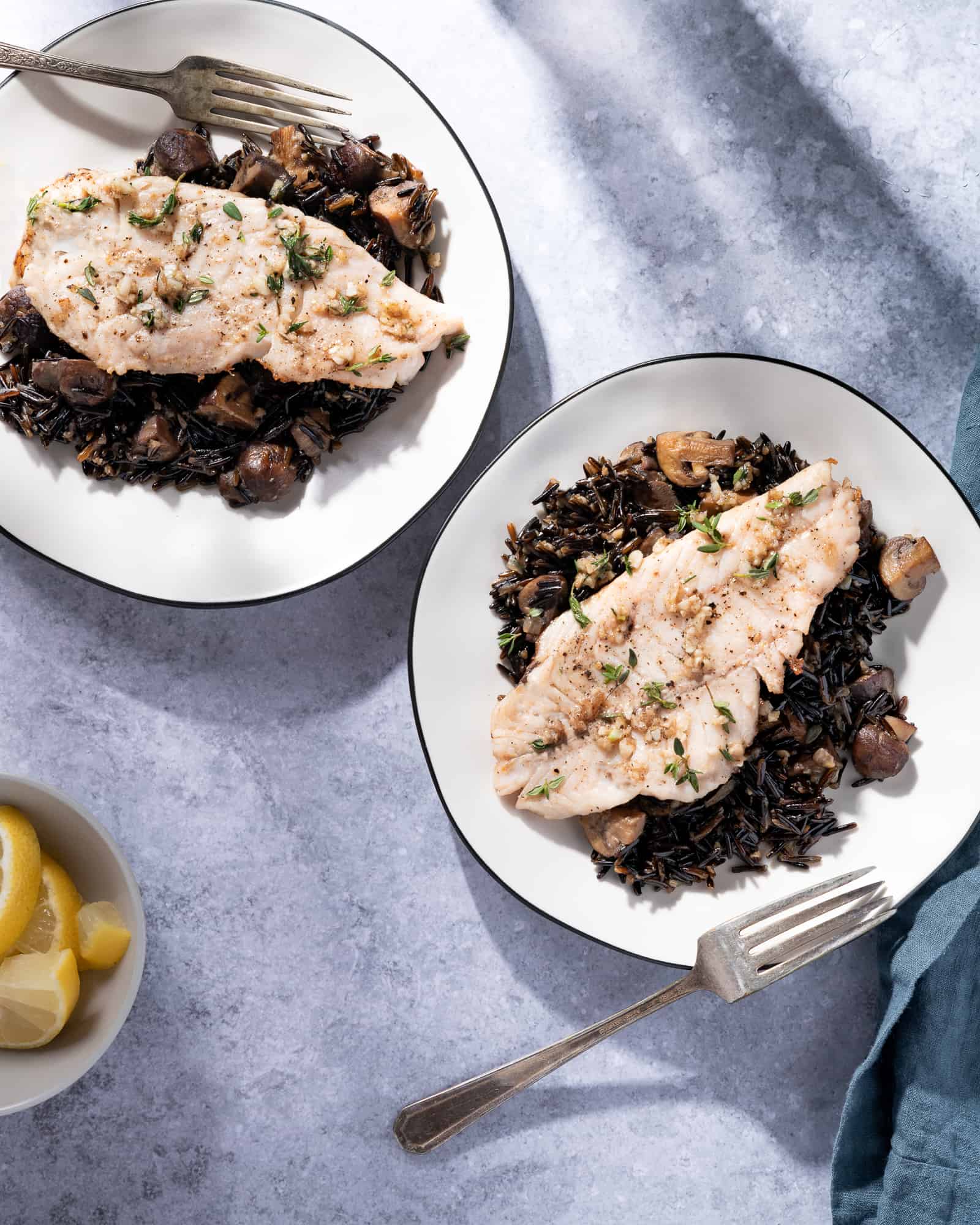 This is a great meal to put on the menu for a small dinner party or family gathering because it serves on one dish, although a side salad or some roasted veggies wouldn't hurt. Because wild rice takes a while to cook, you can put it on the back burner and once your guests arrive quickly pan sear the fish and it's all ready to go.
If you are not already familiar with wild rice, it is a lovely grain that has a nutty flavor with a slightly chewy texture. It is originally from the northern great lakes region, which I used to travel to frequently and remember picking up bags of it from the Native American vendors there. It is a delicacy on its own, but goes well with a pat of butter or two on top as well.
side salads to serve with pan seared rockfish and wild rice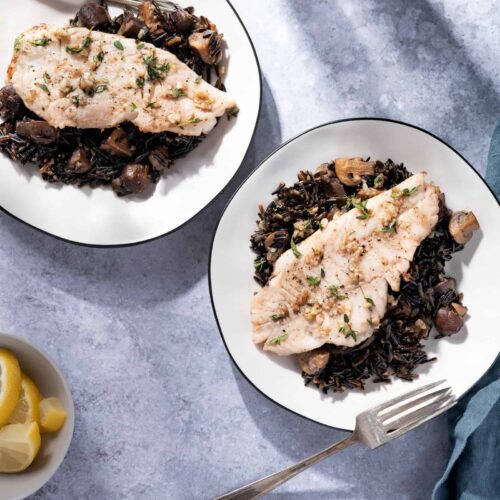 Ingredients
2

cups

crimini mushrooms,

(or other mushrooms, quatered)

splash a olive oil

2

shallots,

(minced)

5

cloves

garlic,

(minced, divided)

2

cups

wild rice,

8

cups

water

8

tablespoon

butter,

(divided)

2

tablespoon

fresh thyme,

(leaves plucked and chopped)

4

small rockfish fillets

(or other flat whitefish such as sole)

sea salt,

(to taste)

fresh pepper and lemon wedges,

(for serving)
Instructions
Heat a small saucepan to medium-high and saute the mushrooms with a splash of olive oil and salt under the mushrooms are well browned and reduced in size, about 7-8 minutes. Then, add half of the butter and garlic, shallot, wild rice and water and bring to a boil. Season with salt and pepper, turn the heat to low and cover and cook for 1 hour.

When the rice is close to done, heat a fry pan to medium-high and melt the remaining butter and garlic with the thyme leaves and gently saute the rockfish fillets on both sides for about 2 minutes per side depending on the thickness of the fillets. Season with salt and pepper.

Scoop the wild rice onto individual serving dishes and top with the fish. spoon any remaining pan butter onto to the fish and serve with lemon wedges.