Pad Pak simply means, "stir fried vegetables" in Thai and this recipe is just that. A bunch of chopped bite sized veggies stir fried to the perfect tender, but crisp texture and tossed with basic Thai flavors such as fish sauce, oyster sauce, and rice vinegar.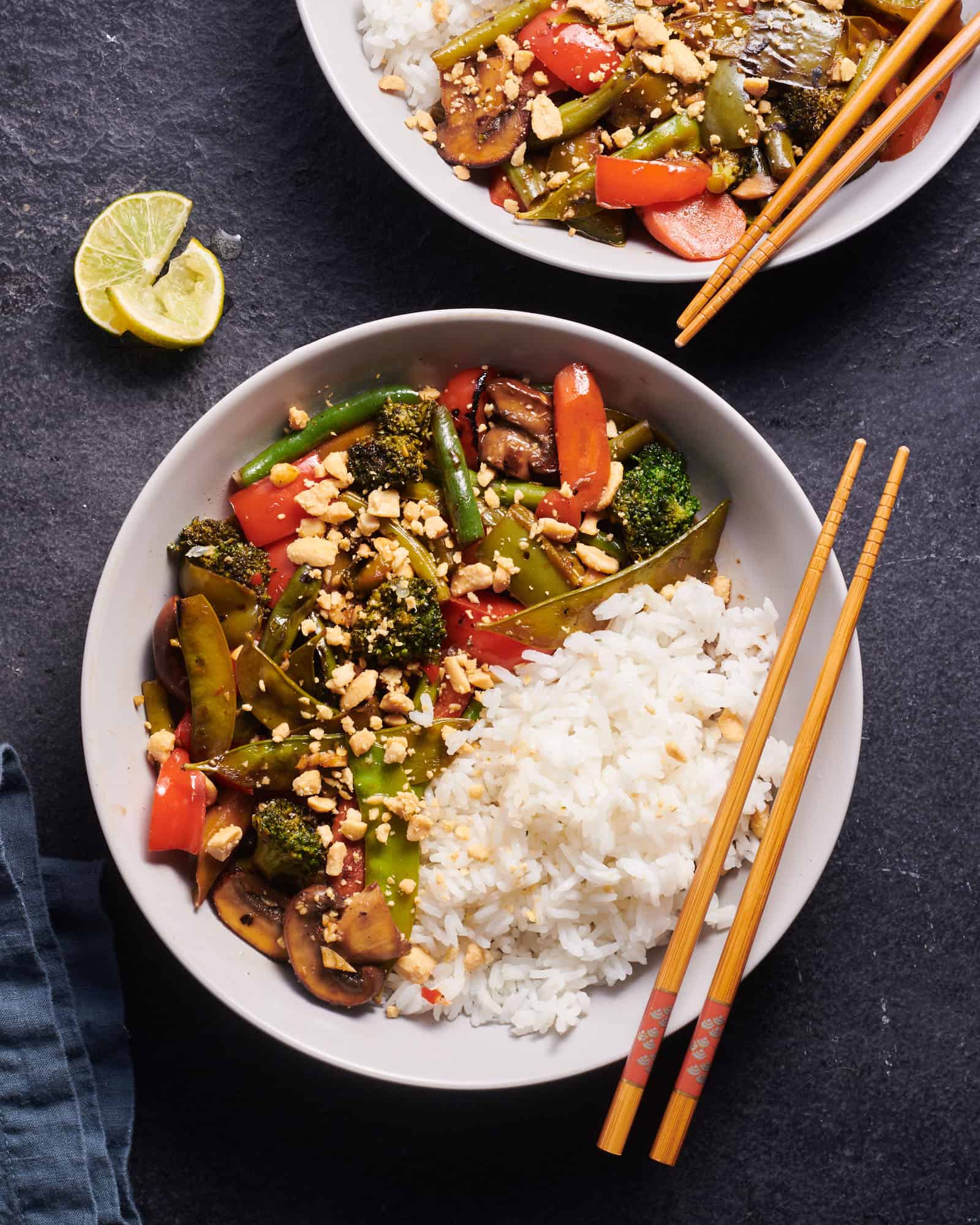 This very easy Thai stir fry is healthy and comes together in a matter of minutes. The veggies you use are totally adaptable too, I will usually toss in any extra chopped vegetables I have laying around, the best stir fry veggies are tender and can be cooked fast, such as broccoli, peppers, snow peas, mushrooms, and green beans.
I highly recommend using a wok because you can cook with high heat to get a good sear without overcooking. The key to this recipe is not to overcook the vegetables, keep a little crunch! No one likes mushy veggies. A basic fry pan or sauté pan will definitely still work but with the amount of water in the vegetables they will start to steam instead of sear. 
You can serve pad pak as a full meal with steamed rice or as a side for some grilled chicken or fish.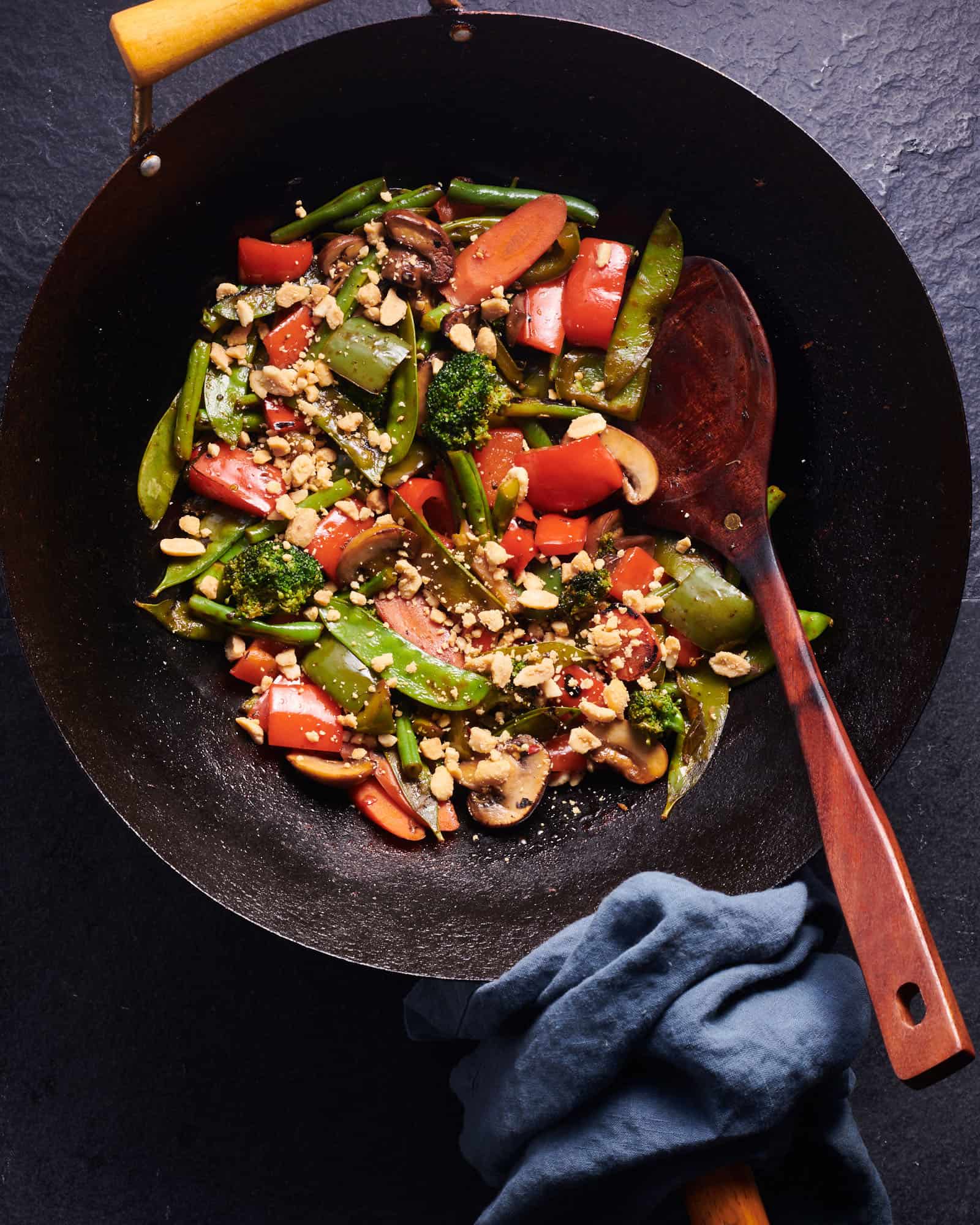 Some other Thai recipes you will love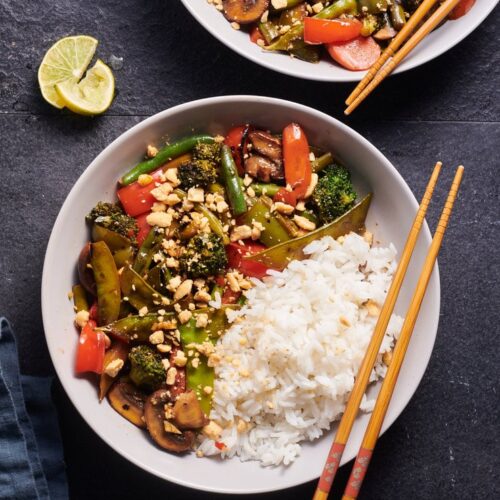 Ingredients
Stir Fry
2

tablespoon

grapeseed oil,

(or any neutral oil)

1

carrot,

(peeled and chopped)

1

head of

broccoli,

(florets and stem chopped)

1

green pepper,

(cored and chopped)

1

red pepper,

(cored and chopped)

1

cup

snow peas,

1

cup

green beans,

(ends trimmed and chopped)

1

cup

crimini mushrooms,

(sliced)

1

cup

peanuts,

(crushed or chopped, optional)

lime wedges,

(for serving)
Stir Fry Sauce
1

clove of

garlic,

(minced)

2

tablespoon

palm sugar,

(or brown sugar)

2

tbsp

rice vinegar

2

tablespoon

soy sauce

2

tablespoon

oyster sauce

2

tablespoon

fish sauce

1

teaspoon

garlic chili paste,

(optional)

1

teaspoon

cornstarch
Instructions
Chop all the vegetables into bite sized pieces. Then, mix all of the stir fry sauce ingredients in a small bowl until well combined and set aside.

Heat a wok or fry pan under your hottest burner for about 2 minutes until the pan starts to smoke a bit. Then, working quickly add your oil to coat the pan and add your veggies. Be careful of splattering! You can work in batches if your pan isn't big enough.

Stir or toss the vegetables often for about 7-8 minutes or until slightly seared and just cooked through but not mushy, this will depend on how hot your stove is.

Once the veggies are cooked, give the sauce one more stir to mix in the cornstarch and dump into the pan. Toss the veggies with the sauce for another minute or so until the sauce thickens and starts to caramelize a bit.

Plate the veggies with some steamed rice and top with some crushed peanuts and a squeeze of lime.