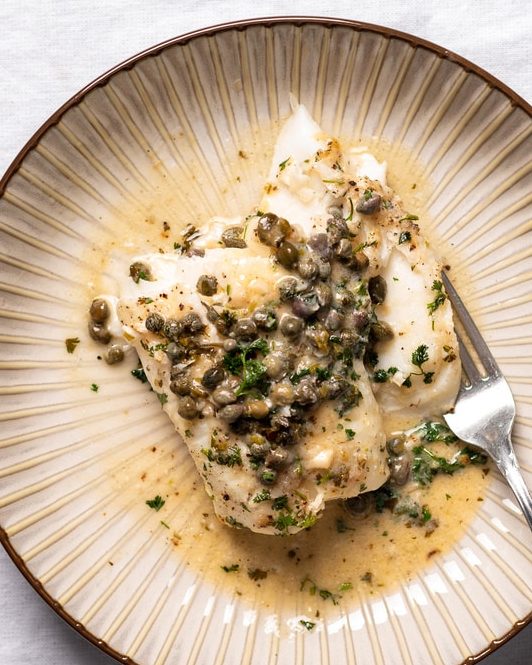 prep time: 5 mins
cook time: 12 mins
serves 2-4
With seafood being a main part of my diet, I am always trying to simplify the way I cook fish so I can keep it in my normal dinner routine. This cod with lemon caper sauce is a prime example of that. It comes together in one skillet, to make clean-up easier, and uses ingredients that probably already in your fridge.
The sauce is a riff off of a classic lemon butter sauce, but with the addition of the salty, fruity complexity of capers and the anise flavor of tarragon. If you can't find capers (or just don't feel like shopping) you substitute chopped anchovies or olives for a different but equally as delicious outcome. I highly recommend giving tarragon a try because it has a very unique flavor that goes well with fish, but parsley, thyme, or basil would all work well too.
Serve with some roasted root vegetables or an arugula salad and plenty of crusty bread to dip in the sauce.
---
Cod with Lemon Caper Sauce
---
Ingredients
1 lb cod, (or other firm whitefish, cut into 2-4 fillets)
4 tbsp, butter, (divided)
1 lemon, (juiced)
1 clove garlic, (minced)
2 tablespoon capers, (drained and rinsed)
1 tablespoon fresh tarragon, (or parsley)
salt and pepper
Instructions
Sprinkle cod fillets with salt and pepper.
Heat 1 tablespoon of butter in a skillet to medium-high heat and then add the cod fillets and cook on each side for 4-5 minutes or until cooked through.
Remove the cod to individual plates. Turn off the heat and add the remaining butter, lemon juice, garlic, capers, and tarragon to the pan. Stir vigorously until the mixture becomes slightly thickened. Season with salt and pepper and pour over the cod fillets.